I'm sure you already have some Christmas songs in mind, but have you ever sat down to think about what your favorite Christmas songs are? After all, there are so many songs that come on the radio during the Holidays, how can you choose just a few songs as favorites? You probably can't. This is why I've created a list of the Best New & Modern Christmas songs that everyone seems to love and listen to every year.
MODERN CHRISTMAS SONGS 2021
Find here a list of the Best New & Modern Christmas songs of all time (Xmas songs list). This is the most comprehensive and newest exclusive Christmas Songs list on the web.
1. Jingle Bells by Gwen Stefani
The holiday season is an appropriate time to revisit one of the most beloved Christmas songs, Gwen Stefani's cover of "Jingle Bells." The peppy rendition will get you and your family in a festive mood, even if it's the thousandth time you've heard it.
2. SANTA TELL ME BY ARIANA GRANDE
A song called "Santa Tell Me" by Ariana Grande expresses how she feels about the holiday season. She wonders if the things she asks for will be given to her. She sings that she wants a man in her life who will be there next year.
3. All I Want For Christmas Is You by Mariah Carey
One of the most reliable signs that the holidays are here is the inescapable earworm "All I Want For Christmas Is You" by Mariah Carey. The song came and went when released in 1995, but snowballed in cultural cachet in the aughts, slowly climbing in popularity every year before finally topping US charts in 2019 and the UK charts in 2020.
Complaining about its ubiquity has become a pastime for killjoys at pubs, but it's their loss: From the twinkly intro to Mariah's tour-de-force delivery, everything here is as timeless as it is flawless.
4. Stay Another Day by East 17
In an interview from 2010, East 17's songwriting member Tony Mortimer revealed the sad inspiration behind "Stay Another Day"—his brother's suicide. This raw emotion seems to seep into the group's gorgeously somber four-part harmonies and even the inevitable Christmas song sleigh bells, producing a peerless exercise in festive melancholy.
5. Like It's Christmas by the Jonas Brothers
On December 14, 19-year-old Nick Jonas tweeted that the release of their new song, "Like It's Christmas," was to be the first of many recordings to come from the band in 2019. The song describes how a love connection is so strong that it can make any day feel like Christmas. Double aw!
6. Last Christmas by Wham
'Last Christmas' by Wham features sleighbells, synths, and knitwear in the video. But what George Michael really sets 'Last Christmas' apart is his heart-on-sleeve delivery: 'My God! I thought you were someone to rely on' (with a bit of heartbreak horror) and his wistful, sexy whispers. The words 'Merry Christmas' never sounded so sultry.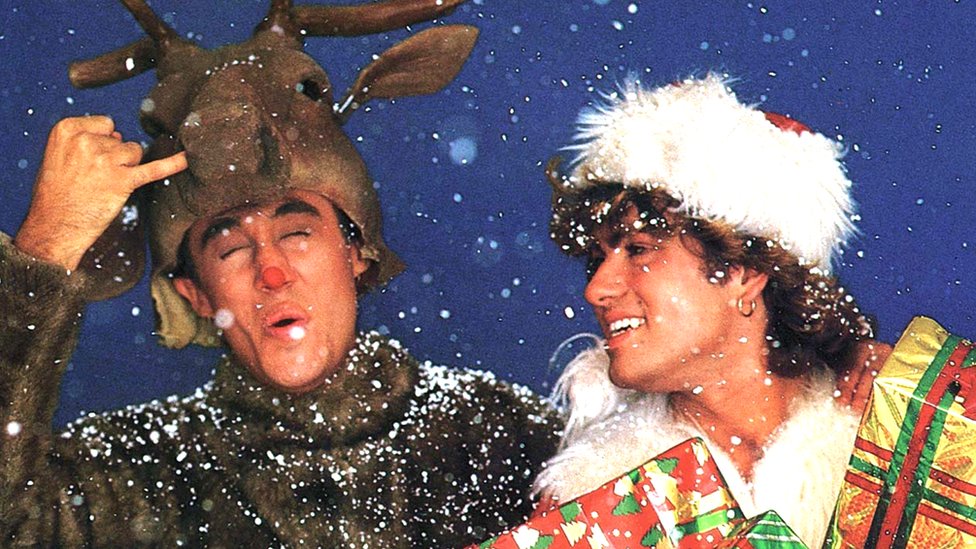 7. Christmas Lights by Coldplay
This song by Coldplay, released in 2010, is about a breakup during the holiday season. The melancholy love song still makes room for the magic of Christmas.
8. Winter Things by Ariana Grande
In this song, Ariana Grande is sure to put a smile on your face. The lyrics are about celebrating the winter season — even if there is no snow where you live. The song will inspire you to get out and enjoy the whimsical aspects of the holiday season.
9. Christmases When You Were Mine by Taylor Swift
If you like Taylor Swift's late-2000s songs, you'll probably enjoy "Christmases When You Were Mine," a sweet ballad written about being without someone you love during the holidays.
10. Santa Claus Is Comin' to Town by Bruce Springsteen
This track by Bruce Springsteen, recorded live at C.W. Post College in 1975, is a take-off on the classic Santa Claus is Comin' to Town. Though it's many decades old, it's got a modern feel and is the perfect party anthem for any festive get-together.
11. Drummer Boy by Justin Bieber [feat. Busta Rhymes]
This song is a perfect dance track, but it also has a very meaningful message. The lyrics include lines such as, "It's surprising how some people say they don't care / While there are people on the street with no food; that's not fair / It's about time for you to start being merry / It's about time for you to give to charity; rarely do people even wanna help at all / 'Cause they're warm by the fire getting toys and their dolls."
12. Santa's Coming For Us by Sia
Sia's fun and catchy "Santa's Coming for Us" is not only another hit from her album, Everyday Is Christmas, but also a modern take on the classic, Santa Claus Is Coming to Town.
13. Oh Come All Ye Faithful by Jess and Gabriel
This duet sung by husband and wife duo Jess and Gabriel Conte might just become your new favorite festive song to stream as you relax by the fire with a mug of hot cocoa.
14. Have Yourself A Merry Little Christmas by Sam Smith
Sam Smith's angelic voice sings this 2014 cover of the holiday standard "Have Yourself a Merry Little Christmas," a song sure to make anyone's heart skip a beat.
15. Hey Sis, It's Christmas by RuPaul [feat. Markaholic]
For a fun spin on Christmas, throw in a couple of RuPaul songs this holiday season. The song "Hey Sis, It's Christmas" is especially good and features lyrics like "I saw you checking out girls, baby / I saw it when you were peeping out the window / You saw me watching you, baby / I saw it when I was peeping through the curtain."
16. The Christmas Song by Ne-Yo
Ne-Yo's debut holiday album, Another Kind of Christmas (2019), marks the start of a new tradition: our home has now been graced with each new batch since then.
17. Make It To Christmas by Alessia Cara
Although the holiday season is a time for joy and good cheer, it can also be a stressful time for many people in relationships. In this song, Canadian singer-songwriter Alessia Cara expresses her desire that her relationship will make it through the holiday season.
18. Candy Cane Lane by Sia
"Candy Cane Lane" is an upbeat, joyful song from Sia's 2017 album Every Day Is Christmas, which features original holiday songs from the singer known for her hit "Chandelier."
19. Underneath the Tree by Kelly Clarkson
Kelly Clarkson's "Underneath the Tree" is an original Christmas song with instrumentals that swell and a message that moves. Clarkson has performed it many times, including on The Today Show, The Voice, and Ellen Degeneres.
20. We Three Gentlemen (Medley) by Lindsey Stirling
A violinist, Lindsey Stirling mixes "We Three Kings," "God Rest Ye Merry Gentlemen" and "Carol of the Bells," creating a medley that is sure to spotlight any talent show.
We hope that this Top 50 Christmas Songs of All Time list has brought back some great memories and helped you discover some Christmas songs you may never have heard before. Whether you're a fan of traditional Christmas carols, big band Christmas songs, or oldies, there is something to be enjoyed by every generation and perhaps even a new tune or two. So grab some hot chocolate, put your feet up and be sure to add these top Christmas songs of all time to your playlists this holiday season.