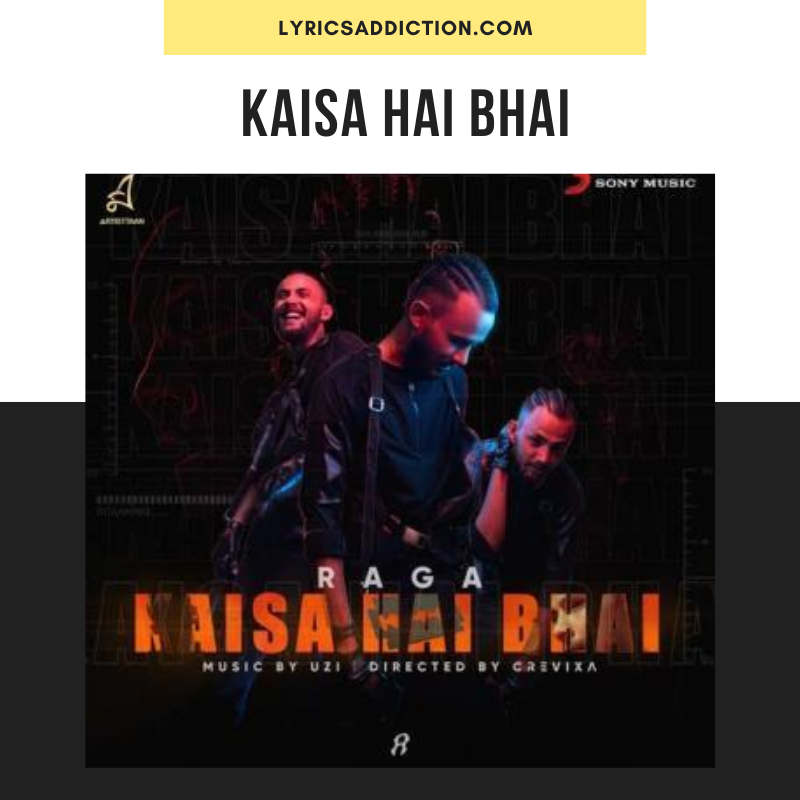 PLAY KAISA HAI BHAI HINDI SONG
KAISA HAI BHAI LYRICS – RAGA
Kaisa hai bhai,
Mast hai? Moti kamai
Bante ye khaas
dere safai
Acha ye ganda ye dhanda
to chalega bhai Kaise
bhi bhai hai,
Paise bhi bhai hai Gaadi bhi neeche hai
bhai Peeke bidi
maine kardi pitai Chalte,
firte merepe bharti bhi aai Karcha paani
deke chalti banai Parcha khake maine dharti hilai Sab,
Sach hai ye jhooth hai pata kar bhai
Maine mooh ki na khai
Bachpan se aaj tak
bhookh he mitai Kardu pitai
vo bhi fimly style & They wanna kill me
bhai Par main missile,
Main Bana misaal Hain Ladka kamaal,
Jo karde bawaal
To kiski majaal hai
jo bhooke Maine mooh khola to bhaage
firoge In Shabdo ki dhaage
piroke Ilaaqo k naako pe gaate
firoge Fir baate karoge k kaise hum RAGA
ko roke Kaisa hai bhai,
Mast hai? Moti kamai,
Moti kamai Kaisa hai bhai, Mast hai?
Moti kamai, Moti kamai Moti kamai
Moti kamai Subah mil jaaye jo chilaam or chai
To film banaye hum din bhar he bhai Nahi
yaar sahi nahi rahega yaar Baate na chodta,
Aaj bhi likhh k karu main baat cheet Kamina boht tha,
Karta tha maarpeet Bachpan se chada ye shauk tha
Marna tha chowka tha,
Karna hip-hop tha Kardia totka Bhagg bane saare,
Fucks mile saare Shaksh hile saare,
Aaj bhi bus ghar se niklne
ki baat thi Launda to tez tha,
Jaanti maa thi Jab bhi main girta,
Sambhalti maarti Par chaleti hai
iss baat ki daat thi Sweet life bhi jee,
Steet fight bhi ki Peeke tight hoke,
Night life bhi jee Par likhta tha
haath ye roz Panne bhar diye
tere bhai ne HipHop to sunta tha,
lagta tha,
Jaise main stage pe Fir agle din uthta tha,
karta tha,
lagta tha race mein Ab Tu Bata,
Kaisa hai bhai,
Mast hai? Moti kamai,
Moti kamai Kaisa hai bhai, Mast hai?
Moti kamai, Moti kamai Moti kamai,
Moti kamai Kaisa hai bhai
KAISA HAI BHAI MUSIC VIDEO