Jeetenge Hum is the latest Hindi song by Dhvani Bhanushali. Music of this song is given by Lijo George & DJ Chetas. Jeetenge Hum Lyrics written by Manoj Muntashir.
JEETENGE HUM LYRICS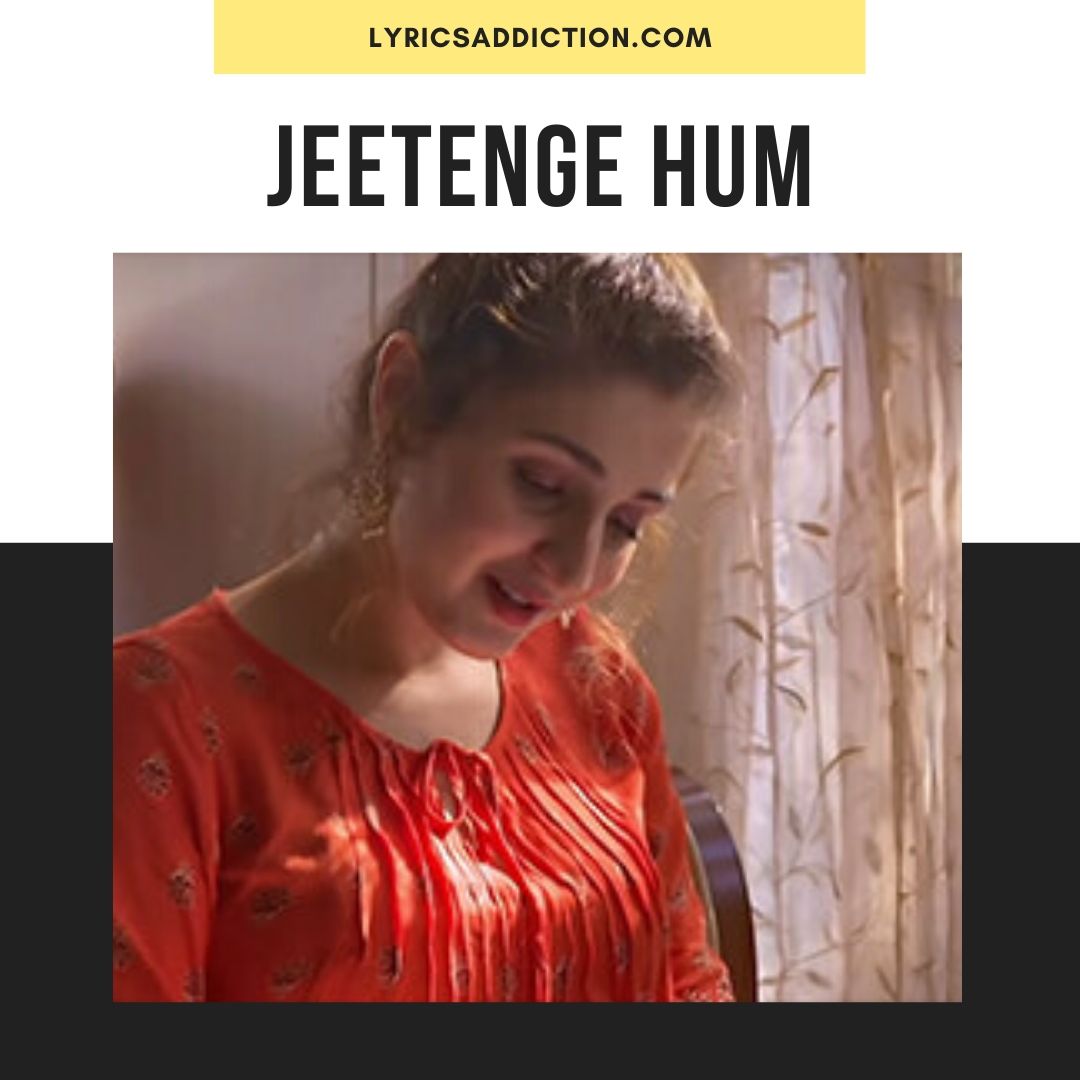 | | |
| --- | --- |
| SINGER | DHVANI BHANUSHALI |
| MUSIC | LIJO GEORGE, DJ CHETAS |
| LYRICIST | MANOJ MUNTASHIR |
PLAY JEETENGE HUM SONG
JEETENGE HUM LYRICS
Jab Andhere Mein Humne
Umeed Ki Lau Jalana Shikha Hai
Raftaar Se Aage Badkar
Apno Ko Jeetana Sikha Hai
Toh Ab Tham Kar Bhi Ek Dusre Ke Sang
Har Jang Jeetenge Hum
Haan Haan Haan..
Bade Bado Ne Jor Lagaya
Jor Lagaya Saara
Hum Uss Desh Ke Washi Hai
Jo Desh Kabhi Na Hara
Bade Bado Ne Jor Lagaya
Jor Lagaya Saara
Hum Uss Desh Ke Washi Hai
Jo Desh Kabhi Na Hara
Haan Bol Meri Aawajo Mein Tu
Aawaz Milake Yaara
Haan Bol Meri Awaajo Mein Tu
Aawaz Milake Yaara
Saare Jahan Se Acha
Hindustan Humara
Saare Jahan Se Achchha
Hindustan Humara
Suraj Fika Pad Jaaye
Chamke Jo Tera Laskara
Bharat Ki Har Beti Hai
Bharat Ki Aankho Ka Tara
Suraj Fika Pad Jaaye
Chamke Jo Tera Laskara
Bharat Ki Har Beti Hai
Bharat Ki Aankho Ka Tara
Jis Maati Ne Janma Tumhe
Uss Maati Ka Jaikaara
Jis Maati Ne Janma Tujhe
Uss Maati Ka Jaikaara
Saare Jahan Se Acha
Hindustan Humara
Saare Jahan Se Achchha
Hindustan Humara
Ho Ho… Haan Haan…
JEETENGE HUM SONG OFFICIAL VIDEO